Homotaurine
CAS NO.: 3687-18-1
Chemical Formula: C3H9NO3S
Structural Formula: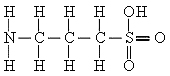 Molecular Weight: 139.16
Property: white needle crystal and needle crystalline powder,odorless and subacid,soluble in water, slightly soluble in ethanol.
SPECIFICATIONS
White needle crystal or crystalline powder
PACKAGE:25Kg/Fiber drum/Carton/Poly bag lined with 2 layers PE bags.
STORAGE: Be stored in cool,dry place,free from toxic or harmful goods when be stored and delivered.